Whether it's a wedding, business meeting, or even a surprise birthday party, the venue you choose for your special celebration can have a big impact on how the day unfolds. That's why Lancaster Country Club invites you to plan your next defining moment with us.
What makes events at LCC special?
LCC offers much more than our beautiful Club as the backdrop for your event. From our professional event and catering staff to our customizable options, LCC is the perfect place for all celebrations. But why do both members and guests choose to host their event at LCC?
Open to non-members: Although our members are welcome to schedule their next event at the Club, we invite outside guests, too!
Gorgeous new renovations: LCC recently made some major upgrades with "A Defining Moment," an ambitious $20 million renovation project. With new amenities in the activities pavilion, golf plaza, and clubhouse, our fresh and modern design makes LCC the perfect space for your event.
Multiple spaces: LCC has several spaces to accommodate different types of events. We frequently host large galas, small business meetings, anniversary dinners, baby showers, and more!
Superior dining options: Our culinary team is devoted to excellence, diversity, and delectability in every dish. We have a wide selection of a la carte menu options and will be happy to customize a menu for you!
End-to-end assistance: When you host an event at LCC, you aren't alone. Our team of personal planning assistants helps you plan, set up the event, and provide excellent day-of service. Our professional events team can also help you plan a personalized menu, source fresh and unique flowers, and create one-of-a-kind party games.
Professional team: LCC's Catering & Events department has in-house experts to execute your event to perfection. Our Director of Catering & Events, Elizabeth Belknap, has over 15 years of experience in tourism and hospitality. LCC's Catering Coordinator, Aislynn Lowery, also has years of experience in catering for yacht clubs, mansions, and museums across New England.
4 event planning tips from LCC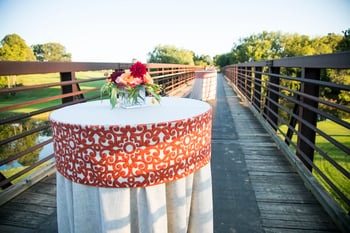 Lancaster Country Club's expert event planning team is here to help you plan and execute your event to perfection. However, it's good to keep these four things in mind when planning your event:
1. Communication
LCC's Catering & Events team is here to help you plan a perfect event. That's why it's so important to involve our Catering & Events staff in all aspects of planning. No matter how "out-there" your ideas might seem, our team is happy to help you whenever possible.
2. Reserve space ASAP
You don't need to plan every aspect of your event before booking a space. We recommend reserving your space as early as possible to secure the specific venue you want, especially during popular times of the year.
3. Choose your service type
How do you want to serve guests at your event? Buffet-style is simpler and gives attendees several options. But if you want to do a refined plated service, that requires more planning.

We recommend offering 2 - 3 plated dinner options to your attendees (including a vegetarian option) and asking them to make a selection before the event. This might require more planning, but it's a good way to ensure that every attendee has a perfect experience.
4. Personalize the event
LCC has a gorgeous space, but that doesn't mean you can't add your own spin to this event. Our Catering & Events team is here to help you find the right decor, activities, menus, and anything else you need to customize your event to perfection.
Plan your defining moment
When you're planning a meaningful event, host it in a beautiful space with a professional staff. At LCC, our goal is to help you create lasting memories with end-to-end event assistance. Get in touch with our expert team to plan your next event at LCC.