Recently Named #2 in Top Ranked Private Club and Resort Aquatics & Pools across the United States by Club & Resort Magazine.
Summer is around the corner, and with the weather warming up, it's time to make poolside memories with your family at the Lancaster Country Club.
Every summer from Memorial Day to Labor Day, the LCC opens our luxurious, family-friendly pool to members and their guests. It's the perfect summertime oasis to unplug from technology, soak up some rays, and bond with your family.
Ready to work on your tan? Learn more about LCC's newly renovated pool and our jam-packed event calendar for the summer 2022 season.
LCC's New Pool Facility
After breaking ground on our radical expansion project, A Defining Moment, in 2020, the LCC has significantly expanded its pool area. Thanks to this 24,000 square foot expansion, LCC's pool has a larger footprint, as well as the next generation of first-class amenities for our members.
The LCC pool is the perfect summertime retreat, whether you want to lounge in luxury or get the kids out of the house. Enjoy the new amenities at the pool, which include: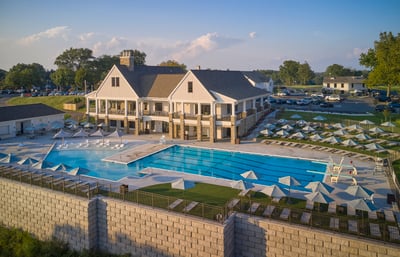 Zero-entry pool

Towel service

Outdoor bar

Quiet sunbathing terrace

Sun shelf

Children's splash pad

Six-lane competition-size pool

In-water chaise lounges
Summer 2022 Pool Events
While you're free to enjoy the pool at your leisure, LCC's events team has planned cookouts, parties, and kid-friendly activities throughout the summer season. We'll be hosting a Memorial Day Cookout, Friday Theme Nights including Glow Night, Movie Night, Tie-Dye Night, Ice Cream Night, Backyard Games Night, and more! We'll celebrate one last hurrah with a Hawaiian-themed Labor Day Cookout to close out the pool season.
Private Lessons and Swim Team
Last but not least, don't forget to take advantage of private swim lessons throughout the summer or enrolling your children in our LCC swim team, the Stingrays!
Private swim lessons: Whether your kids want to learn how to swim or you want to improve your freestyle stroke, LCC's professional swim instructors are available for private lessons. You or your child will be paired up with a lifeguard/swim instructor that will meet your skill level.
Swim team: The LCC's swim team, the Stingrays, compete in the Lancaster-Lebanon Swim League every summer. Designed for children ages 4-18, our swim team is the perfect way to keep your children social and active during the summer months.
It's Time for Summer Fun
The LCC's new pool complex has amenities and services that rival the exclusivity of a resort. Enjoy everything that the LCC has to offer by relaxing in the sun at our newly renovated pool. Learn more about the LCC's leisure and wellness activities to stay cool this summer.