Lancaster Country Club introduced a fitness center for the first time as part of the "A Defining Moment" expansion project. While Lancaster Country Club is a nationally-renowned destination for golf, we wanted our facility to add value to all club members. Even if you aren't interested in golf, there are plenty of amenities and activities at LCC to help you stay fit and active—in a family-friendly environment, no less.
Golf will always be a part of LCC's legacy, but today, our modern country club is expanding its offerings to give even more value to our members. Whether you want weekly yoga classes or to strengthen your golf game, LCC's brand new fitness center will help you achieve your goals.
LCC Fitness Center's New Amenities
LCC's new Fitness Center features state-of-the-art equipment, perfect for cardio and strength training. It's open to all LCC members seven days a week from 5 AM to 11 PM, but that's just the beginning. LCC also added three new features designed to give our club members even more wellness options.
Fitness & Wellness Specialist on staff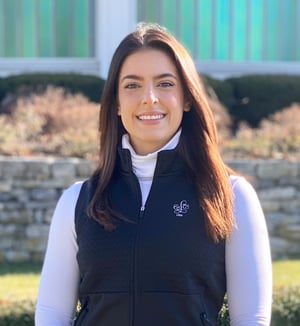 Fitness and wellness are deeply personal, and in many cases, the expert guidance of a professional is key to achieving your goals.
Meet Sara Esh, LCC's new TPI certified Fitness & Wellness Specialist. Throughout her over 10-year fitness journey, she has become certified in yoga, barre, and personal training. Additionally, she earned a holistic health coaching certification through the Institute for Integrative Nutrition. She is now on her way to achieving her second personal training certificate through the National Academy of Sports Medicine. You may already know her from various pop-up events she's taught in Downtown Lancaster City, Zen & Fit, or I AM Limitless Studio.
Through personal training, private yoga sessions, or coaching, Sara will be able to push you to be your best self and motivate you on your wellness journey. She believes practicing a lifestyle centered around health is not only about gaining strength or improving flexibility, but finding balance between your physical, mental, and emotional state. With her knowledge, she can guide, empower, and inspire you, whether on or off the mat.
Personal training
Did you know that 70% of golfers experience pain while they play? Improper form, injuries, and other issues can not only impede your golf game, but also significantly hurt your quality of life.
That's why Sara offers personal training to the members of LCC. Sara takes a customized approach to fitness that fits your exact needs, whether you want to strengthen your golf game or you need injury-friendly exercise modifications.
Group fitness classes
Sara offers more than training on an individual basis. You can also find her and her carefully selected trainers conducting group fitness classes on the beautiful grounds of the Lancaster Country Club. Our group fitness room has a full schedule of group fitness classes, which include:
Yoga

H.I.I.T.

Tai Chi

Cardio Barre

and more!
We also offer child-friendly group fitness classes so you can encourage a love of wellness in your children from a young age.
The bottom line
Wellness is the cornerstone of life at LCC. Whether you're an avid golfer or you're looking for a different physical challenge, there's something for everybody at LCC's new Fitness Center. Be sure to try a personal training session or our new group classes to connect with your fellow members as you become the best version of yourself.