When you become a member of Lancaster Country Club, you gain access to much more than our high-end facilities and internationally renowned golf course. Whether it's fitness classes, a packed social calendar, or fun events for the kids, there's something for everyone. Learn about some of the many enjoyable activities you can access to squeeze every ounce of value out of your membership.
Take golf lessons
Have you always wanted to learn how to play golf? Or are you already a seasoned pro?
Regardless of your current skill level, LCC has clinics and lessons available for all golf players. Sign up for our Golf 101 and 102 clinics led by experienced golf instructors. During this four-week series,you'll learn the fundamentals of golf including LCC rules, golf etiquette, and proper form.
Whether you want to master the basics or perfect your swing, our PGA-certified professional instructors will help you reach your goals. LCC offers lessons for individuals or groups — and all ability levels and ages are welcome.
Enjoy dinner and drinks
Join us for dinner and drinks on the Flynn terrace. This newly renovated and expanded golf plaza was part of LCC's $20 million A Defining Moment upgrade.
Sit down, unwind, and enjoy craft cocktails during happy hour at our firepit terrace as your new after-work hangout. Sip on tasty drinks and enjoy small bites while you overlook the lush grounds of the course.
Work on your fitness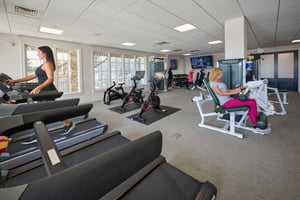 Get in shape, make new friends, and try new activities at our fitness center. Our fitness and wellness specialist teaches several classes at LCC, including:
Cardio barre

Yoga

Tai chi
We also invite guest instructors to offer new, challenging classes to get your heart pumping. LCC's fitness classes are open to all ages and experience levels.
Spend the day poolside
Did you know that our pool is open seven days a week? LCC was recently ranked number 2 Top Private Club and Resort Aquatics & Pools across the United States, thanks to our luxurious expansion and new amenities. Don't forget to stop by the Sunset cafe for poolside food and drinks!
Attend a racquets social
Get together with fellow racquets enthusiasts at LCC's regular racquets social events like:
Sip & Serve Mixed Doubles Tennis Social

Dinks and Drinks Pickleball Social

Monthly Junior Racquets Nights
These events are great opportunities for new members to meet and connect with other members.
Members Rebekah and Joshua L. love socializing over racquets, "We initially anticipated enjoying some golf as a family and using the club for business purposes. Soon after joining we quickly realized how much our whole family enjoyed tennis. It has been amazing to watch each of us, mostly beginners, grow in our skill and love for the sport. That would not have happened without the help of the amazing tennis pros and the community of tennis families that we now call friends."
Bring your kids to LCC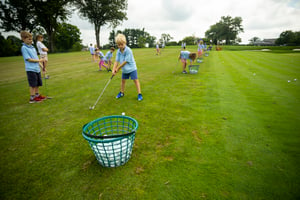 While some country clubs are adults-only, we know that a club membership should benefit the entire family. After all, why should adults get to have all of the fun?
LCC fosters a family-friendly environment where kids can be kids. We host plenty of kids' events throughout the year, including:
Father-Daughter Dance

Easter Egg Hunt

Mother's Day Brunch

Fall Fest

New Year's Eve Family Party

Theme Night Fridays at the pool
Children are also welcome to take advantage of all junior programming:
Golf & Racquets: The LCC offers clinics, leagues, and lessons to instill a love of golf and racquets in your children. We welcome all ability levels and also offer competition opportunities.
LCC Summer Camp: For children ages 5 to 12, these week-long sessions incorporate a variety of fun activities like tennis, golf, swimming, crafts, and more!
Swim team: The Lancaster Country Club Stingrays welcome swimmers ages 4 to 18 to join our team and compete in the Lancaster County Summer Swim League. The season runs every summer from June to July.
Plan your next event
Between anniversary dinners, baby showers, and birthday parties, there are endless occasions to get together and celebrate at LCC! As a member, you'll gain access to multiple spaces that you can rent out for your next event. Members frequently gather at LCC to mark special occasions such as:
Sweet Sixteens

Retirements

Weddings

Anniversaries

Baby showers

Birthday parties
Celebrate your big moments in our recently renovated, beautiful spaces. Whether you want an elegant cocktail party or a casual picnic on the green, LCC is happy to host your next event.
Make friends and memories at Lancaster Country Club
Whether it's a holiday brunch, dinner on the course, or theme nights at the pool, there's never a shortage of activities at LCC. It's the best way to stay in shape, learn something new, and forge lifelong friendships. Learn more about your LCC membership options now.